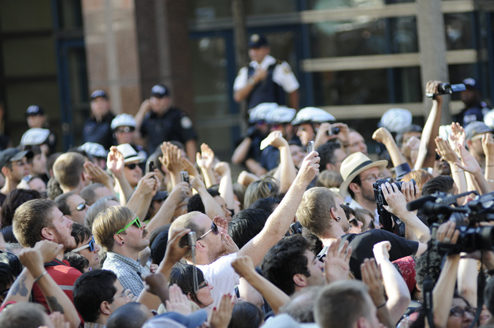 Event Security in an Increasingly Uneasy World
Event security has certainly gotten more complicated since the early 2000s. Not only do event organizers have to address "normal" issues (unruly patrons, theft, vandalism, gatecrashers), they need to face the fact that most events are "soft targets" for more nefarious types of behavior. How do you keep people safe without ruining their event experience?
A uniformed presence at entry gates can discourage troublemakers from even attempting access to a venue. Fortunately, patrons have become accustomed to having their bags checked before entering an event site. Uniformed security personnel, not event staffers or volunteers, should conduct these bag checks.
Guards should also be responsible for monitoring other locations such as emergency exits, near bathrooms and in food and drink areas. They should patrol not-so-populated locations as well—especially behind the scenes—equipment unloading areas and event offices that can house large amounts of cash.
Enlist event staff. While not their primary role, event staffers should be trained to look for suspicious activity. They should be given instructions on how to alert security if they see anything out of the ordinary. Event security guards can't be everywhere so watchful event personnel can be a big help in keeping a venue safe.
Have a written security plan. Prepare, prepare, prepare—take into account every worst-case scenario and devise a plan of action for each. What happens if there is a bomb threat, natural disaster, fire, a serious equipment malfunction or an active shooter? Emergency exits need to be clearly marked. Trained security staff must know their assigned designated roles to ensure patrons remain calm if a calamity occurs and an evacuation is required.
When events are free of major disturbances year after year, organizers can be easily lulled into security complacency. An event's safe history does not take into account the current security climate. It is better to be over-prepared instead of being caught off guard. Lives and property are at stake.