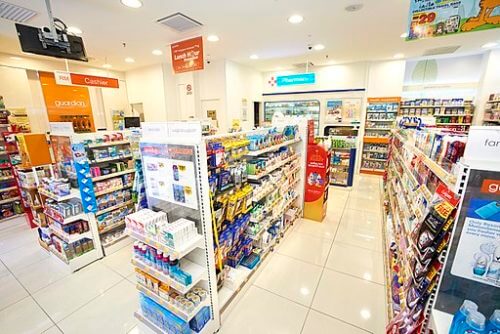 Security Checklist for Convenience Stores
Convenience stores, those small retail outlets that stock everything from snacks, slurpees and hot food items to alcohol and basic groceries, are great for customers in a hurry. Unfortunately, they are also easy marks for robbers who can grab money from the cash register or steal items and be on their way in minutes. While preventing all robberies may be impossible, there are still some steps that convenience store and gas station owners can take to discourage illegal activity.
Keep Counter Displays Low. Counters should be no more than 5′ high. Mount mirrors to reduce blind spots so the entire store can be viewed from the checkout counter.
Maintain Plenty of Lighting Inside and Out. One of the best ways to deter crime is to eliminate the cover of darkness. The inside of the store should be easily visible from the exterior and the exterior parking lot and entrance area should be easily visible from the inside.
Keep a Minimal Amount of Cash in the Register. If a burglary does occur, the haul will be less. When necessary, make several trips to the bank each day to deposit cash—always varying the time of day and route.
Add a Door Alert. This is especially helpful at night so employees know when people are coming in and out of the store.
Make Sure Video Cameras are Operating and Visible. Although cameras don't deter some criminals, they will for some.
Add Fencing or Other Barriers Around the Outside of the Store. This will prevent a robber from making an easy escape on foot.
Add A Security Guard. A guard can identify individuals loitering around the store or otherwise acting suspiciously. A conspicuous guard in and around the store can put off would-be robbers.
If a Robbery Occurs, Call the Police Right Away. A quick response by the police enables them to interview witnesses and will increase the chance of arrest.